It doesn't matter if your promotional item lands in the hands of a late-term Gen X'er or a grizzled veteran of the millennial clan, chances are – if they love it – they'll do the promoting for you.
Millennials are the most influential generation of our time and winning their brand loyalty is the holy grail of advertising these days. The promotional products you select for your millennial audience (ages 22-38) will be quite different than the ones you've traditionally chosen for…well…older generations. If you're not yet catering to this hyper-connected group of the workforce, keep this simple fact in mind; as of 2015, millennials became the majority of the workforce and by 2030, they'll make up 75% of it. It's time to board the M-train.
Clearly, millennials are immersed in their digital worlds. They share their opinions all over social media; they use hashtags; they have tons of followers; and they take selfies – like every five minutes. According to a CrowdTwist study, 43.5 percent of millennials said they use social media to spread the word about products or services they love. Pair that behavior with the right promotional items and you're likely to get a super-charged endorsement echoing throughout all of the different social media channels.
So what is the right promo product for the millennial who has grown up alongside the spoils of modern life, loves the convenience it, and yet could care less about owning stuff. Millennials aren't interested in just another piece of the same old swag. They prefer to experience their chosen brands as something that adds purpose to their lives; an extension of who they are. Keeping in mind their ongoing love affair with technology, here are a few suggestions to win over the heart of any millennial.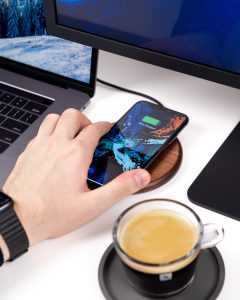 1) On-the-go phone chargers/power banks
Promotional products are most effective when they're truly useful. Portable chargers fit that bill for millennials and tech lovers of all ages because a cell phone can be charged on the go, without being tethered to a power cord. These portable chargers can hold up to eight hours of battery life. If your name is on this tool, you have the potential of making your company emerge as a true hero. Displaying your logo on something so useful creates an association with your brand and you will quickly be remembered for saving the day.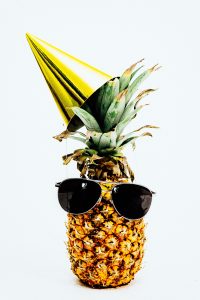 2) Wayfarer Sunglasses
Wayfarer glasses have been made famous over and over again by many different stars throughout the years and these retro style glasses are making a huge comeback right now. They'll definitely show up in a millennial's social media feed when they're hanging out with friends on a sunny day. Since a lot of companies use these types of sunglasses, do something different with yours to make them stand out. Use bright colors, experiment with patterns or add some bling – just do something catchy because millennials are easily distracted by features that look expensive…but really aren't. Remember to strategically place your logo and these sunglasses will be winners for sure.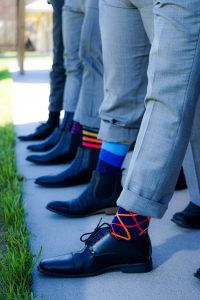 3) Fun Socks
Items that are fun, functional, and cultivate connections to real life are what millennials are looking for. They're all about personalization and standing out from the crowd which is why uniquely branded socks with bright colors and loud patterns are a gravitational pull for this generation. You may be wondering who will actually see your logo on a pair of quirky socks but remember who's wearing them. These attention grabbing accessories are the perfect social media post for millennials who want to share their distinguished personality, from head to toe.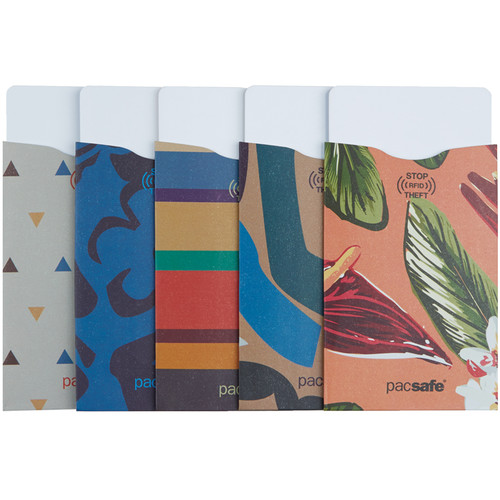 4) Blocking sleeve or blocking card
Having grown up in the digital age, millennials are particularly sensitive to the threat of having credit card account numbers and banking information stolen. In a world where you can simply tap your cell phone to pay for groceries, technological conveniences also come with opportunities for hackers and scammers to steal your customer's personal information. A blocking wallet or blocking card can help protect against certain kinds of radio frequency (RFID) threats. Keep your customer's most important information safe and every time they need to open that wallet to spend a dollar, they'll be reminded that you're the one looking out for their best interests.
5) Comfy Colored T-Shirts
It may be cliché, but a super-soft t-shirt with a cool graphic is an outstanding choice for millennials. We're not suggesting a logoed polo shirt like your daddy wore after he returned from that big trade show. To reach millennials, you need apparel that has their lifestyle in mind. A beautifully designed graphic t-shirt is something they'll wear around everyday and be proud to take selfies in. Bringing your brand to life with warmly-colored shirts that have a soft, vintage look and feel will appeal to millennials on so many levels. Shirts dyed with eco-friendly pigment colors are especially desirable to this age group. You'll give a millennial a good reason to retire that store bought tee to the pajama drawer and instead wear your great design outdoors. Not only will they be fashionable, they'll speak of your greatness far and wide because they also happen to be the most loyal generation ever to their brand favorites.
These are just a sampling of promotional products to consider when targeting millennials. In order to truly capture their hearts, you must remember they are a tech-driven generation with savvy consumer habits. They gravitate towards brands that are active in social networks, and will also promote the brands to which they are loyal.
Lattitude Marketing can help you curate the best promotional items that will get millennials talking about you and sharing you with friends and family on their social platforms while still tailoring the design and implementation to the needs of your vision.